Scottish Network Day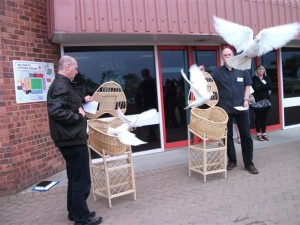 This year the Scottish Network Day was held in Aberdeen on Saturday 21st May.  Alison Hall and Susan Dalgleish represented Dumfries and Galloway Sands and travelled up to Aberdeen on the Friday afternoon.
The event was held in Pittodrie Football Stadium and was very well attended with representatives from National Sands as well as most of the Scottish Groups and also some health professionals and other interested parties.
The day started off with a very emotional slide show which had been made by Robin and Jill Watt as a tribute to their daughter Murron who they lost in April 2008.  This was followed by the lighting of a candle and talk from Sonia Gow who told her story "Stillbirth and beyond: a Parent's Perspective".
After a short presentation on the work of National Sands from Neal Long, Chief Executive, National Sands, we broke for coffee.  During the coffee break we enjoyed some lovely homemade cupcakes and had a chance to meet and chat with some old and new friends from the various other groups.  Coffee was followed by a talk from Myra Kinnaird, Midwife.  Myra talked about her work within Rubislaw Ward in Aberdeen.
Before breaking for lunch we heard from Ann Chalmers, Chief Executive of the Child Bereavement Charity.  Ann spoke about meeting siblings needs and this proved, certainly for Alison and Susan, to be a very thought provoking and emotional talk.
After a lovely lunch we had an insight into Fertility Services in Aberdeen from Sandra Cant, Fertility Specialist Midwife from Aberdeen, followed by a talk from Sue Hale, Group Services Manager, National Sands.  Sue gave an interesting talk about the future of Sands in Scotland and in particular the creation of the new post of Scottish Co-ordinator.
The afternoon coffee break was followed by a question and answer session and summing up.  We then all gathered outside for the reading of a poem and dove release.
All in all it was a very interesting, informative and thoroughly enjoyable (and emotional) day.  A great chance to meet and share ideas with other groups.
We look forward to attending next years Scottish Network Day.